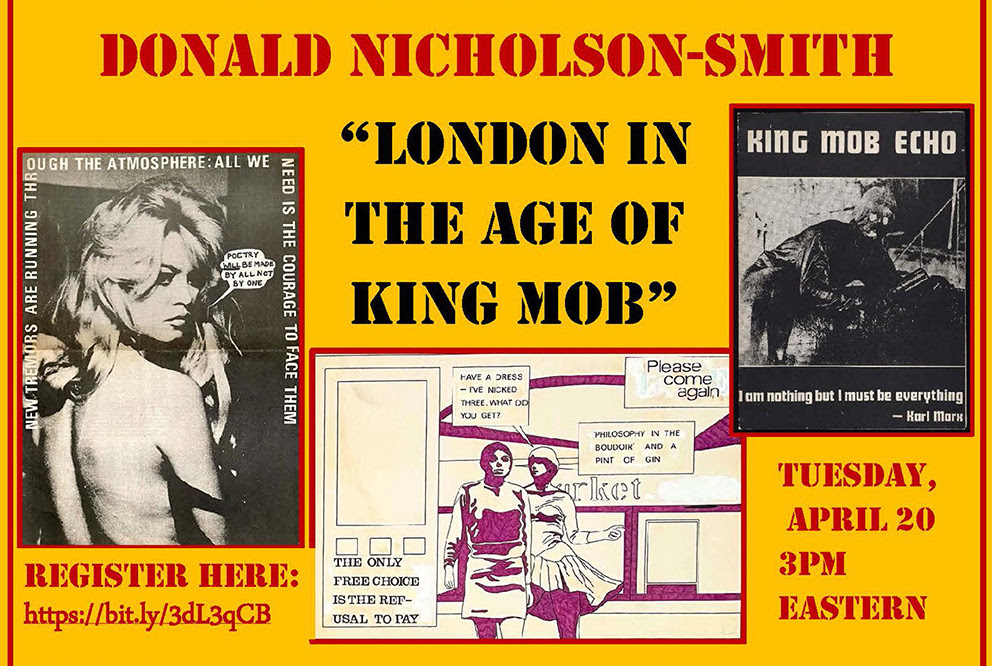 There is a whiff of something strange going on when the Beinecke Library at Yale University hosts an interview with the translator and activist Donald Nicholson-Smith. Is it just an anomaly? Nope.
The Postwar Culture Working Group has been following the Situationist thread for more than half a decade now, so this is a thing they've got going at Yale. And Nicholson-Smith, co-founder of the London radical activist collective known as King Mob, is both a translator of Situationist texts and has the honor of having been one of the many fractious parties who were expelled by the Situationist International. Nicholson-Smith was expelled in late 1967, in a disagreement over how radicalized the SI should be. He favored a more extreme involvement, as he pursued with King Mob of London.
Nicholson-Smith provided an overview of the brief existence of King Mob and the various strands that came together to light the fire. He pointed out the influence of Frank and Penelope Rosement in Chicago, who had joined the surrealist movement in Paris in 1965, inspired by their meetings with Andre Breton. The Rosemonts found synergy between surrealism, art as rebellion, and the more focused labor movement of the wobblies. This led to the Chicago Surrealist Group and the publication of Rebel Worker, a zine that was printed on a mimeograph machine borrowed by Frank Rosemont from the Chicago I.W.W. office. In London, Charles Radcliffe published the sixth issue of Rebel Worker in solidarity with the group in Chicago. Subseqently, a new zine called Heat Wave was published in London and was soon followed by the actions of King Mob and their own zine, King Mob Echo.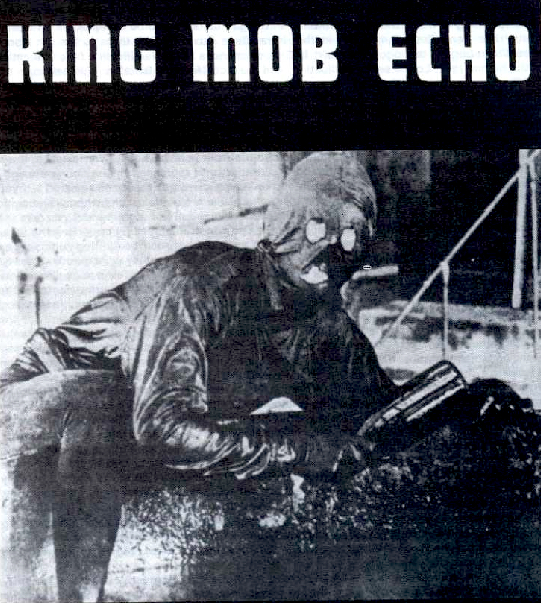 "The Rebel Worker is an incendiary and wild-eyed journal of free revolutionary research and experiment devoted principally to the task of clearing a way through the jungle of senile dogmas and aiming towards a revolutionary point of view fundamentally different from all traditional concepts. We believe that almost all political propaganda is useless, being based on assumptions which are false and situations which do not exist. We are tired of the irrelevant concepts and the old platitudes. The revolutionary movement, in theory and practice, must be rebuilt from scratch." - Charles Radcliffe
Another thread in the tapestry of King Mob formed around the twin brothers, David and Stuart Wise, who were art students at Newcastle-on-Tyne, and who had been publishing the radical anti-art zine, Hapt, which resembled the early publications of Guy Debord.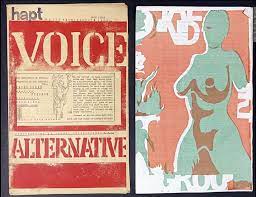 When the Wise brothers moved to London, they lived at Nottingham Gate, and they were very good at screen printing, or "squeegee-ing," as Nicholson-Jones described it. They went to New York and met Ben Morea and his group Black Mask, which published twelve issues of a zine with the same name.
As an "anarchist street gang with analysis," Black Mask waged a surrealist war against the establishment and it's commodification of art. According to Ben Morea, "We felt that art itself, the creative effort, was an obviously worthwhile, valuable and even spiritual experience. The Museum and gallery system separated art from that living interchange and had nothing to do with the vital, creative urge." src
Which harks back to the words of Alexander Rodchenko, who said: "DOWN with Art as a bright patch on the mediocre life of a propertied class. DOWN with art as a precious stone amid the dirty, dark life of the poor man. DOWN with art as a means to ESCAPE A LIFE that isn't worth living!" from Slogans (22 Feb 1921) in Experiments for the Future (2004):142.
The cover of Black Mask #9 (Jan-Feb 1968) takes it's own slogan straight from mouth of the House Un-Amercian Actitivies Committee:
These smut sheets, are today's Molotov cocktails thrown at respectability and decency in our nation. They encourage depravity and irresponsibility…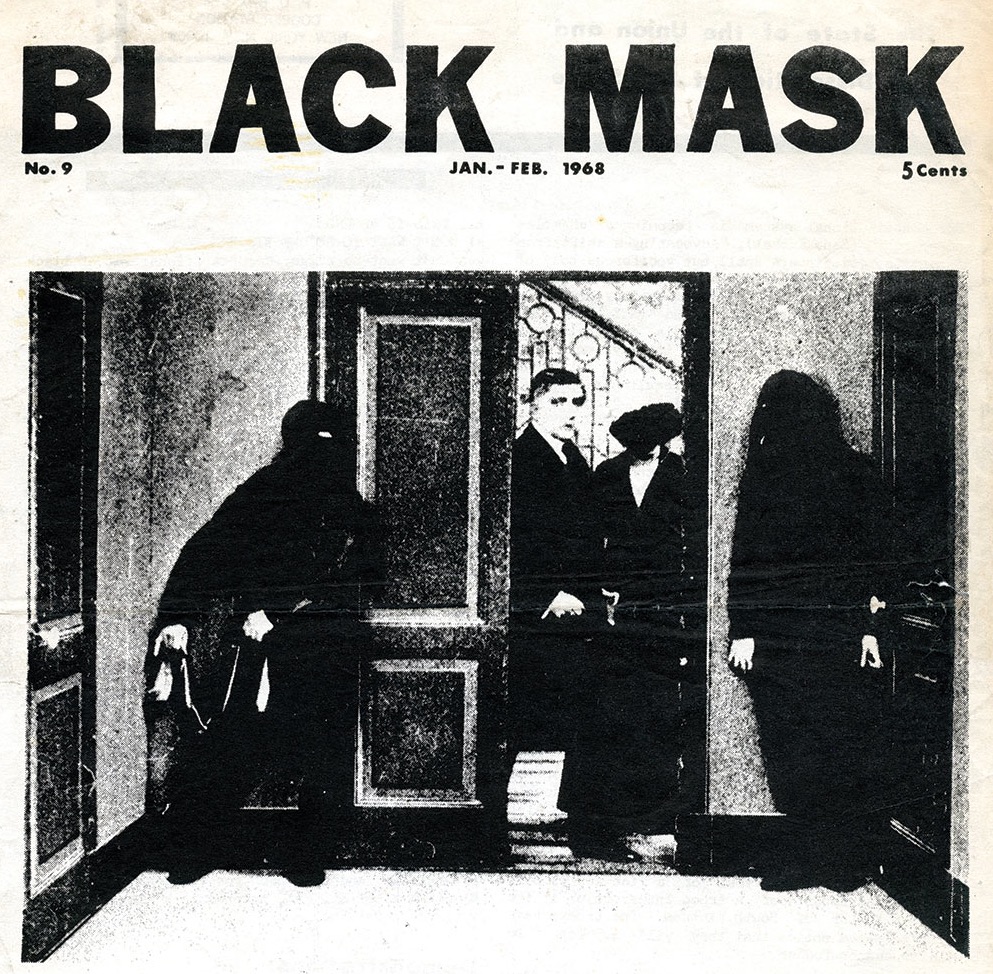 The radical actions of Black Mask continued when they changed their name to Up Against the Wall Motherfuckers, after the poem by Amiri Baraka (aka LeRoi Jones). One action, symbolic of their position on art in society, involved carrying piles of stinking, festering trash from the East Village and dumping it on the steps of Lincoln Center. A short film was made of the group planning, drumming up, and performing this guerilla social action.
"WE PROPOSE A CULTURAL EXCHANGE," they declared in an accompanying leaflet: "garbage for garbage.")
References:
Anarchist Library src
Brown, Bill, Not Bored selected texts src
"Garbage Guerilla," New York Press (2015) src
Geerinck, Jan-Willem, "Some questions on King Mob Echo number one" (2019) src
Kunzru, Hari, "The Mob Who Shouldn't Really Be Here," Tate Etc (2008) src
Radcliffe, Charles et al, "Freedom: the only cause worth serving," in The Rebel Worker #6 (May 1966) src
Rodchenko, Alexander, "Experiments for the Future," MOMA (2004). see also blog post
Rosales, Jose and Andreas Petrossaints, "Translating Jean-Patrick Manchette - interview with Donald Nicholson-Smith," BookForum (2020)
src
Rosemont, Franklin and Charles Radcliffe, "Dancin' in the Streets, the Rebel Worker and Heat Wave," Charles H. Kerr (2005) src
Wise, David and Stuart Wise, "King Mob
A Critical Hidden History," Bread and Circuses (2014) src see also excerpt online