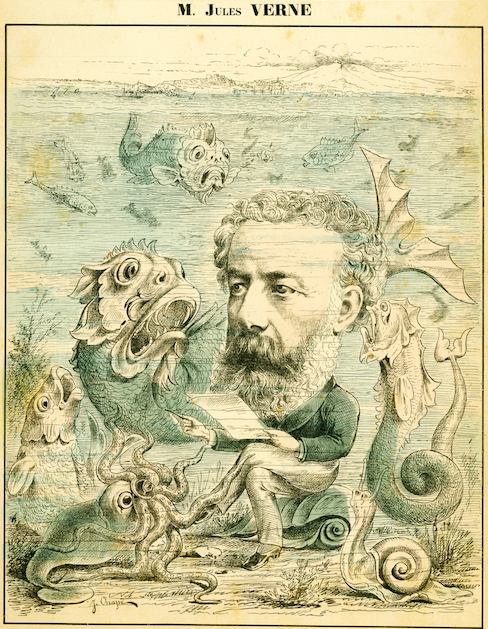 "Verne collecting authentic information from the best sources about the underwater world"
from
L'Algerie Pittoresque
, 15 Jun 1884.
src
Jules Verne is too well known, so that if you allow me to praise him it won't be breaking news. Picturesque Algeria does not need to teach his readers that the sun is shining, that it's hot during the month of August, (especially around Laghouat) (1), and that M. de Gavardie is slightly crazy. (2)
We cannot, however, let the great scientific popularizer pass by without giving him a tip of a hat, a stroke of a pencil, and a scratch of the pen. What we write has already been repeated a hundred times, and we are inevitably reduced to banalities. That's what is boring about famous people; they were so often acclaimed by their contemporaries, that nothing is left to tell.
On leaving Algeria, Jules Verne may not have heard anything new here, but it can be certain, that he will carry new sympathies that will arise due to his good nature, his benevolence, and the well-rounded nature of his interests.
We knew he was a writer of intelligence and talent, and we found that he is also a man with a good heart. May the memory that he carries away from us be as affectionate as the one he leaves in the colony!
A few days ago, his yacht was anchored at Bône (3) to take on provisions, and the inhabitants forced him to disembark and gave him a drink of punch. In this country, he can say, when we take on coal, we are obliged to also take some punch.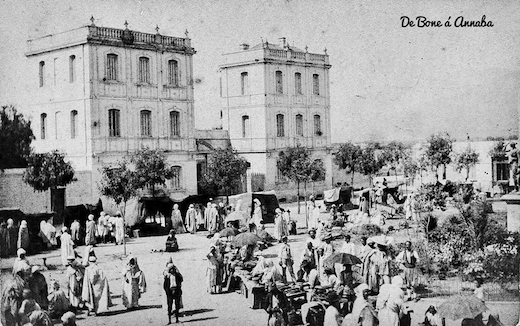 "Souk at the Place Lambert, Bône, Algeria "
the present-day Annaba.
src
The romantic researcher, may not have noticed all the phenomena that his travels in Algeria afforded him.
Let me tell him one.
In Oran, around the tables on which was served the punch of hospitality, we could see side by side and fraternally united, the members of the Judiciary standing or sitting alongside the journalists. So it was, to the accompaniment of the flute of Orpheus, that the tigers and the gazelles lived in peace.
Definitely the aura of genius, like music, softens the animal spirits, even those of the most carnivorous.
Le Citoyen BÊZY.

from an article at
"CDHA (CENTRE DE DOCUMENTATION HISTORIQUE SUR L'ALGÉRIE)"
.
src
Notes:
Laghouat is a town some 400km south of Tunis, in the desert.

Henri-Edmond-Pierre Dufaur de Gavardie, the Senator for Landes in the National Assembly, was caricatured in 1882 by Alphonse Hector Colomb (pseudonym B. Moloch), gesticulating wildly at the podium, kicking his water glass through the air, and with his head completely upside-down on his shoulders.

Jules Verne sailed on his yacht, San Michel III, around the Mediterranean Sea in 1884. The city on the Northeast coast of Algeria, Bône, is today's Annaba. This is the historic town of Hippo Regius, where Saint Augustine died (430 CE) during a seige mounted by the Vandals.