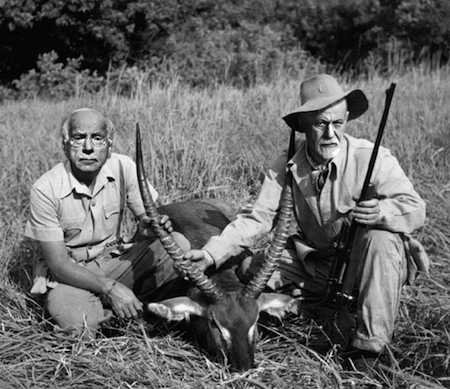 I've always been fascinated by the relationship between Jung and Freud, especially from the perspective of Jung, as related in Memories, Dreams, Reflections.  There are certainly plenty of outsider opinions:   ranging from the breezy website where I found this odd photo of the two men on safari in sub-Saharan Africa, to the mystical musings of Miguel Serrano in The Hermetic Circle.
Just how did Jung reflect on Freud's obsession with sexuality?   What was the meaning of Jung's dream, as a result of which he discovered the collective unconscious?   And above all, what about the bog mummies and the two skulls?
All of these are answered in Jung's own words.  Though you will hear them in my voice, as I read most of Chapter 5 from Jung's classic memoir, and which I dedicate to my lovely wife, BwukGwei, (who asked me to make more recordings!).
Hope you will enjoy it too!
Jung on Freud (47:21), Diamond Bay Radio, Jan 2013