"Early cyberpunks drank the kool-aid of neoliberal transreality," Sherryl Vint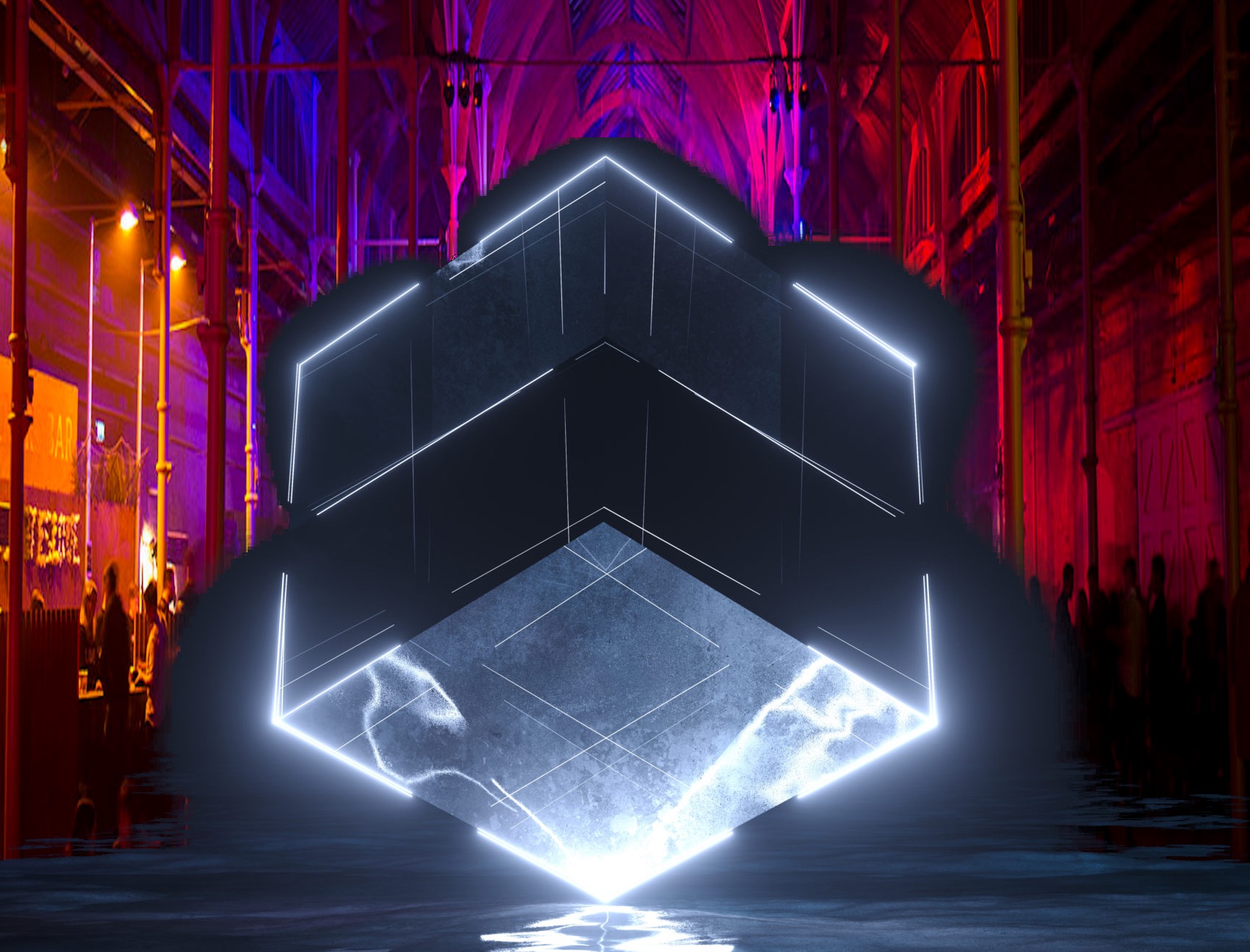 In this surrealistic slow-motion transformation of our human society we have all become Number Six, isolated in our own prison cottages. We swing wildly around at the shadows, not only dissatisfied with our mundane trappings of home life, but actually dissociated with it all. These furnishings, this stack of books, this coffee pot… are these the conditions of my reality? Where is the way out? What kind of fiendish destiny landed me here: in this! Along with the rest of the bio-organisms on this planet.
Strangely enough, even as the mind-devouring reality of our sadistic situation is laid bare, we are all in a profound stasis. We are like cataleptic fools, washing our hands, wearing masks, marching in the streets against the nightmare protocols that have propped up insane and ridiculous clowns to pose as "leaders." And yet everything seems to have been slowed down in a quagmire of elongated time. We've taken the red pill. The ugly gears of injustices keep cranking away. Did you hear that ka-ching? It was another billion dollars in the pockets of evil freaks (yes, Bezos and Zuckerberg, I am talking about you), while the majority watch their bank balances tumbling to zero.
It is this bizarre moment of dissociation from mechanized Mammon that lurches on without us that made it almost inevitable for a sudden resurgence of cyberpunk. Not the self-indulgent glamor hacker ideology, which only seemed to perpetuate the Hollywood norms of a lone hero fighting against an evil machine. What we are seeing now, is the new cyberpunk!
Fattened on the plasma banks of every conceivable attack on the prevalent social mores, the new cyberpunk is it's own spikey, indescribable thing. It is a primal scream, reassembled through decades of struggle into a new body. Cyberpunk now is what? It is an iconclasm. It is a parametric mashup of body modification, gender fluidity, cyborg instantiation, and globalized capital that has already gone mad in a self-devouring frenzy.
That being said, I want to report on the recent virtual con, the Cyberpunk Culture Conference (Jul 9-10, 2020), which managed to swim perfectly through the fantastic milieu of the future that has already become the past, and floated out from the wreckage on that frenzied ouroboros of possibility waves as easily as a swimmer takes to an inflated tire inner tube on a summer pond.
The conference sprang up around recent books published by Routledge, which are quite excellent, I should add.
The Routledge Companion to Cyberpunk Culture
Beyond Cyberpunk: New Critical Perspectives
The inimitable host, Lars Schmeinck, did a brilliant job of arranging for the presentations to be uploaded in advance of the virtual event online. Since the participants were (for the most part) coming from academic or cultural criticism perspectives, they were used to the idea of preparing "talks" in advance of the conference. Which is quite unlike the free-for-all quality of most science fiction conventions, where panelists often have no clue what they will be discussing until they are assembled on the stage and the moderator reads the program description out loud. Having survived twenty years of employment in academia, I've suffered through plenty of conferences where the papers presented were boring, and the discussions blunt, cold, and intended to inflict injury. So I am fully appreciative of the loose, chatty nature of the science fiction con! Nonetheless, I really did enjoy the structure of the Cyberpunk Culture Conference, which allowed me to really dip into the presentations on my own time, and helped me decide which "discussion" to join.
The discussions were held in the form of chat channels on the Discord platform, which began as an online gaming communication system, but is rapidly morphing into the go-to online conference modus operandi. My first real engagement with a virtual con using Discord was the 2020 BaltiCon, and I was mightily impressed by the BSFS team, who spun on a dime and threw all the spaghetti at the wall to see what would stick! Balticon not only had simultaneous programming, but they did so on multiple platforms, combining Youtube live sessions, with Zoom video sessions, as well as Discord, and Twitch! All at once! It was really superb. I really hope the feeling of joyous anarchy that ran through the BaltiCon online conference will spread, and be picked up by other conferences.
Above all, what impressed me about BaltiCon, was that they did not lock everyone out who hadn't paid the registration fee. Personally, I think that was the right decision. Because they postponed the entire paid conference to 2021, they made the entire 2020 con a free experiment. I would say it was a smashing success!
Meanwhile, back in Cyberpunk land, I had been following Pawel Frelik on Twitter and he had been mentioning the conference as the dates approached. So I went to check it out and found that, in fact, there was no mandatory registration fee, but rather a simple donation tip jar set up using the service Ko Fi. This was a great idea! Not only was I able to participate without suffering a budget dilemna, but Lars later reported that the donations had exceeded his expectations. My conclusion from this is that if you have great participants and a solid set of material for people to discuss, you will get better traction if you open up the gates. Create a stiff paywall, and the only people who log on will be those with vested interests. Aren't we all sick and tired of the same old gatekeeping owners of our creative energies? The Elseviers and Taylor-Francises should be siezed and liberated, as far as I am concerned.
Which brings me, momentarily, to ConZealand, which is taking place at this moment. $300. That is what I'd have to pay to join the discord channels of ConZealand. Is that really how the future should be run? Personally, I think it stinks. Not to disenfranchise all the "attending members" who long ago shelled out their hard-earned dough to attend ConZealand. I respect them and their support of the con, absolutely. What I am suggesting, however, has two dimensions.
The first is simply the cost of actually attending a Worldcon is too high. I thought the greatest thing in recent years was John Picacio's MexicanX initiative at San Jose. That was brilliant! He used his profile to ramp up a campaign that brought together an entire contingent of LatinX and MexicanX artists, writers and fans. This is an heroic endeavor! But at the same time, it just shows that the costs of participation are too high for many worthy people who should be there.
And then the other aspect is that the pandemic has forced our hand. Everything has moved online to become virtual. Aren't science fiction cons the perfect vanguard for this action! And shouldn't participation and the funding of the cons be reconsidered? If we are not signing contracts for huge room blocks in hotels, etc, can't we slim down the operation to short term technical costs of massive virtual Live Ops as they are being called? I can see the tremendous opportunity here for worldwide participation at zero, or very minimal cost, while the attending costs can still be arranged for those brave enough to steer their bodies around the globe. Indeed, I was able to jump in to the recent Fantastikon held in Croatia, which was another Discord event, in which there were various presentations and sub-channels that were not available for free, but generally was open and incredibly fun.
Back to the realm of the Cyberpunk Culture Conference, I cannot hope to recapitulate the depth and excellence of the presentations that were made. Lars Schmeink has already edited each of the presentation pages to include the transcripts of the Discord chat channels. I highly recommend that all you cyberpunks out there start skimming through those dialogs! Some of them were terrific.
Highlights of the con for my limited ability to follow it all were in the sessions:
Michael Szul – The Subversive 80's through the Lens of Max Headroom. This was a rollicking summary of the 80s political and social contexts, as well as an incisive take on one of the earliest portrayals of a cyber-personality.
Eero Suoranta – Surveillance, Deception, and Agency in Chen Qiufan's "The Flower of Shazui". Eero's talk will be of interest to science fiction readers, to be sure, as well as those who are keenly interested in the current state of Chinese society, with it's poly-dimensional internal conflicts.
Jessica Aliaga-Lavrijsen – "Transmodern Cyberpunk Literature: Joanna Kavenna's Zed (2019)". Jessica's discussion went into language, linguistics, and the peculiar aspects of the novel Zed to unravel the meaning of transmodernity, riffing on Sherryl Vint's comment on our cultural moment as "one in which the material and simulated are intertwined."
The Roundtable Discussion, was held as a live Zoom stream. This roundtable was fascinating. The speakers exchanged their views on what cyberpunk was, and what it has come to mean in an age of hypercapitalism and hyperconnectivity. What is the body in meatspace, vs. the transcendence and digitalization of the cyberpunk essence? Go nuts on this conversation!
Sébastien Doubinsky – "I want To Be A Machine": Cyberpunk and the Political Esthetics of the Man-Machine. This was fun take on music as the soundtrack of cyberpunk. Seb focused on Ultravox and Kraftwerk as the seminal 1980s tone for cyberpunk, with a generous dose of psychedelic drugs. Not surprising from the author of The Song of Synth, in which a convicted hacker, wearing an ankle bracelet, is a government operative on the trail of billions of dollars in credit that seems to have no source.
Dominic Riemenschneider – Where Reality and Virtuality Collide: (Urban) Architectures in Cyberpunk and the Visual Strategies of the Dystopian Fantastics. This presented a very detailed examination of the built environment in Altered Carbon as an examination of social divisions.
Sasha Myerson Utopian Enclaves: The City within Feminist Cyberpunk Sasha's presentation was, perhaps, the most punk thing I've experienced recently, presented as a video montage of hypnotically pleasing wierdness. She got me with the opening clip of the Warriors, but the samples from from two Japanese films, Sogo Ishii's Burst City, and Shinya Tsukamoto's Tetsuo put this video over the top. If this is academic cultural commentary, then, thank you, please more of this!
Steven Shaviro Machine Logic Can Be Tricky: Pat Cadigan's "AI and the Trolley Problem" One of the best presentations in the whole conference, Shaviro calmly unravels and revels in Pat Cadigan's fictional hijinks with AI.
Julia Gatermann – "Nostalgia for the Future": Projecting a Post-Disability Image through Retro-Futuristic Aesthetics in Viktoria Modesta's "Prototype" In this session Julia grabbed the cyberpunk aesthetic for body modification and went to very interesting places. Does disabled become a springboard into new morphologies of human, to the transhuman, when human-machine embeddedness can transform people into new forms? Amazing.
But, hey, there were thirty-two presentations and discussions! These are just a few that I happened to enjoy. I really hope that the work that went into this conference can inspire some new modes in the virtual con toolkit. SMOFs gather round and check it out! And a hearty thanks to Lars Schmeink, Sherryl Vint, Anna McFarlane, Graham Murphy, and all the organizers who thought it would be a good idea to open up the conference to the digital attendees around the world.