Traveling to Chicago in the winter you expect snow, ice, and bitter gray skies.   We had mild temperatures and lots of sunshine!
One day at Half Price Books, I picked up the UK Granta edition of Elif Batuman's The Possessed, and also a copy of Franz Kafka's Paradoxes and Parables, in the 1961 Shocken paperback edition.
I noticed an old card and folded piece of paper in the Kafka, which I thought deserved further research.   To my amazement, I found tucked into the Kafka book two bits of New York beatnik history!
First, there was a folded flyer for a performance at Caffe Cino, the famous alternate theatre run by Joe Cino at 31 Cornelia Street.
Joe Cino (1931-1967), originally from Buffalo, New York, opened the cafe theatre in 1958, creating what is now considered to be the first off off Broadway theatre in New York.   The venue, which had no real license to be used as a theatre, was always in trouble with the law, and somehow survived by running impromptu events with no publicized schedule.
Finding this actual flyer for a performance at Caffe Cino, was intriguing.   The director of the two Ionesco pieces was Roberta Sklar,  who apparently was the co-director of Jean-Claude Van Italie's 1968 production of "THE SERPENT."   There is a video documentary about this play on Youtube in three parts:  1   2   3
The performers at Caffe Cino that night were Rob Reigler and A. J. Reigler, and the lighting was by Louis Torrey.   Was that Louis Torrey any relation to John Torrey, Joe Cino's lover, who some suspect was responsible for the 1965 fire that nearly destroyed the theatre?   Well, a lot of these details are no doubt lost to history, but it is still amusing to find tid-bits like this floating up from the memory well.
The other amazing find in this copy of Kafka's Parables and Paradoxes, was an original "discount card" from Limelight Bookshop!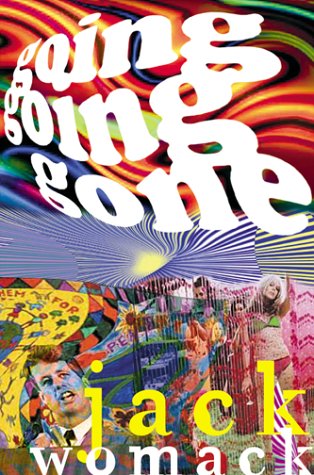 The opening of Jack Womack's Going Going Gone, injects us into an unpredictable world that wobbles between an alternate hipster-scene of New York City in the 1960s and the seemingly hallucinatory ramblings of a drug-addled protagonist, Walter Bullitt. The story begins in a Washington, D.C. hotel room, where the first person jive talk kicks in: "Soon as I spiked I turned my eyes inside. Setting old snakehead on cruise control always pleases, no matter how quick the trip." Sprinkled through almost every sentence are hokey metaphors. The phone doesn't ring, "those jingle bells" do. And on the other end of the line is a Federal agent of some kind, who is so square that he can't understand a word of the hipster-narrator. But the narrator is more like one of the Fabulous Furry Freak Brothers than a secret agent, and he himself was so startled by the phone that he almost made for the john to "drown his bagged cat." To flush his pot down the toilet, get it?
Pretty soon we will be able to know the solar system like the back of our hand. Then what? Stars in our pockets like grains of sand?
A nice surprise at the Davis Square Goodwill!   An ex-library copy of Adventures With the Heroes (1954), illustrated by Steele Savage.   This is the companion volume to Adventures With the Giants (1950) that you can find nicely scanned over at Ragged Claws Network.
In both volumes, you will find Steele Savage's crisp rendering in pen and ink, with a beautiful depth and texture provided by two-color separations.    For example, the illustration for the chapter, Sigurd's Horse (p45), shows a wonderful use of a single color — darkened with black hachure lines for the foreground figures, loosely rendered for the curving river, and lightly washed across the background for mountains.
The painted cover (presumably done in watercolor) is a lovely composite of the major scenes found in the book, with a mild looking dragon lying slain at the feet of a diminutive hero, and with its tail wrapped across the pale green landscape.  This altogether dreamlike image reveals the mastery of an artist who deserves our attention all the more.
The complete set is posted at yunchtime.tumblr.com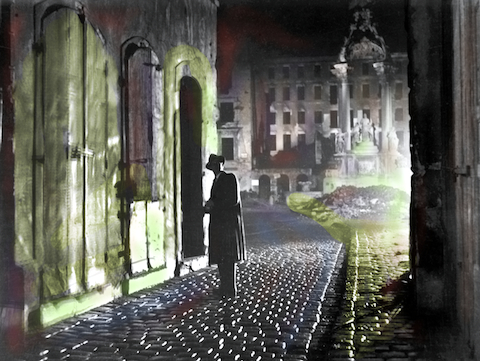 Just finished China Miéville's The City and the City, a very satisfying, even inspiring, book, rich with metaphor and symbolism.  It is like a film noir, set in a mythical Eastern European city — I'm convinced it is partly based on Prague — where populations living in mutually incompatible paradlgms "unsee" each other.
The beauty of this idea  is that, (quite beyond the metaphor,) it could be almost any *real* city; with populations that are utterly invisible to one another. Old and young, rlch and poor, leftist and fascist, black and white: there are, in fact, far too many axes of unseeing in our everyday lives…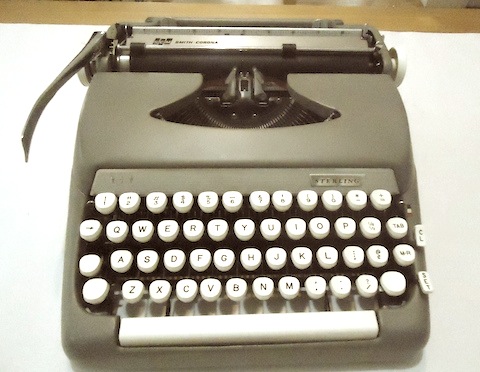 It would be great if everyone was as lucky as I was today when unboxing a Fedex carton containing a used manual typewriter.   The typical horror stories of rattling loose pieces and totally broken machines could be greatly reduced in number if people were careful packers, like the "secretagent" who sold me this beautiful old typer!
Last year at Readercon, there was an emotional dust-up over a sordid harassment incident, in addition to a scary and unexpected medical emergency for one of our favorite editors. At this year's Readercon, we were spared this additional drama, and found ourselves sailing through a very mellow and enjoyable con.
Of course, it was great to catch up with other fans and pros, like Alan Hanscomb, who finished his novel Sharon of Two Salems, and Mark Borok, Dianne Weinstein, and the whole Readercon gang; and also great to make some new acquaintances, like some writer named Seamus who was wearing a little black straw fedora, and a couple of mathematics and linguistics-loving commedia dell'arte performers.
Most surprising for me perhaps, was to hijack a moment of John Shirley's time, reminiscing about his gigs at CBGBs back in 1980, where I saw him stripped to the waist and flailing around like a maniac singing "I am electricity!"   Now that was a memorable night.  Probably Shirley will scratch his head and wonder just who the heck I am and how I knew him well enough to be on the guest list… but I was gracious enough not to mention in public some of the other crazy shit that we both witnessed in Greenwich Village back then.    Like Mickey Mouse as the sorcerer's apprentice, those were some nutty times…   
So where did we go from here?    Yes, the panel sessions.
On June 19th, 1963, Valentina Tereshkova returned to earth after three days and 49 orbits. making her the first woman to travel in outer space.
Her landing near Baevo, Altai was quite rough.   Since the parachute canopy was huge and lines very long, there was hardly any way to control it as she hit the ground.
I had to stand on my head for a little bit," Tereshkova recalled.   "Finally I unstrapped the parachute but ended up with a big bruise on my nose.   I landed on my back.  Some people ran up to me and tried to help.  The spacecraft was 400 meters away.   A jet came in an hour, two parachutists descended.  In three hours, I was on the phone with Khruschev, reporting the successful completion of the flight."
Yes, Tereshkova is made of the right stuff!
The details of her landing remind me very much of the landing sequence in the film, Baikonur, in which a French cosmonaut lands in the Kazakh steppe and is found by a local villager.   An interesting movie that you might want to watch.
Unfortunately, owing to the tragic death of Yuri Gagarin in 1968, Tereshova was ordered never to fly again, either as cosmonaut or pilot.
See:  First Lady of Space: Tereshkova's flight Timeline
Also:  Cosmonaut Postcards featuring Tereshkova
Now that we are vegetarian, Sophia invents some interesting dishes just for fun.
This alien platter is a weird masterpiece!   A bizzare bitter melon, with a texture like an alien lizard, is hollowed out and stuffed with mashed purple sweet potatoes & bamboo shoots, then baked crispy with red Korean chilis that we dried from our garden.     Tastes good, too!