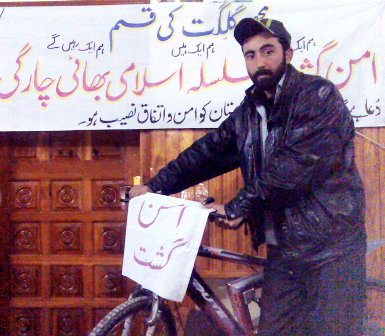 The wonderful Muzafar Bhaid is riding his bicycle for peace across Pakistan! From the highest mountains of the world in Hunza region, the intrepid Muzafar is taking annual stages on his way to Islamabad. Is this fellow wonderfully awesome, or what?
As our government sends in a fascist whacko to launch commando raids, Muzafar is biking along the steepest grades and the dustiest highways of the world… My hat is off to you, Muzafar, brother! Ride on all peace-loving people, we will get there someday.
Check out the two stages of Mazafar's route so far: last year from Gojal (shown on map as Ghulmit) to Gilghit, then this year from Gilgit to Abbotabad. Amazing!